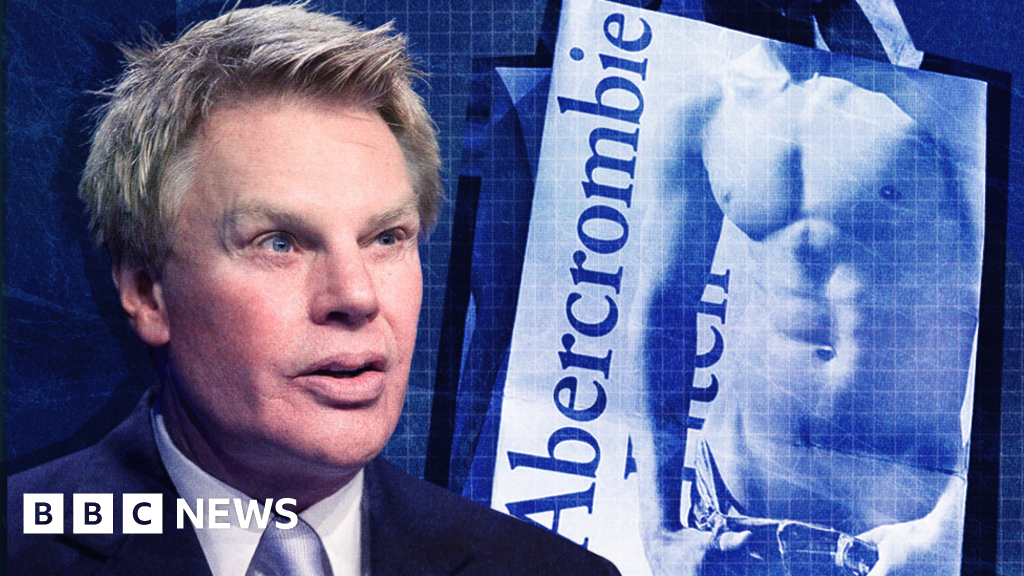 By Rianna Croxford, investigations correspondent
BBC News and BBC Panorama
Abercrombie & Fitch says it's stopped providing additional retirement income to its former boss following allegations of sex trafficking.
On top of his standard pension, Mike Jeffries had been receiving lifetime bonus payments totalling about $1m (£801k) a year.
A lawsuit then accused the US retailer of funding a sex-trafficking operation.
The brand told the BBC it has now suspended these extra retirement payments to Mr Jeffries.
A BBC Panorama documentary and podcast series found found a highly organised network used a middleman to recruit men for events around the world with Mike Jeffries and his British partner Matthew Smith.
The BBC spoke to eight men who attended these events, which took place in London, New York, and Marrakesh among other cities, with some alleging they were exploited or abused.
In the weeks that followed, Abercrombie & Fitch (A&F) was accused in a civil lawsuit of funding a "criminal enterprise" led by Mike Jeffries and Mr Smith between 1992 and 2014.
The court papers allege that it is likely more than 100 men were sexually abused by Mr Jeffries while he was chief executive and that young men were manipulated "under the guise of providing them with the modelling opportunity of their dreams – becoming an Abercrombie model".
It also claims that corporate money and resources were used to "facilitate" a "sex-trafficking venture".
The company told the BBC it does not comment on ongoing legal proceedings.
Through his lawyer, Mr Jeffries also declined to comment, with his lawyer saying: "The courtroom is where we will deal with this matter."
Mr Smith has never responded to the BBC's requests for comment.
More on this story
If you're in the UK: Watch Panorama's The Abercrombie Guys: The Dark Side of Cool, on BBC iPlayer now and listen to the podcast series, World of Secrets: Season 1 – The Abercrombie Guys on BBC Sounds .
If you're in the US: The Abercrombie Guys: the Dark Side of Cool is available to watch on BBC Select.
And if you're outside the UK, listen to the podcast series, World of Secrets: Season 1 – The Abercrombie Guys, wherever you get your podcasts.
Mike Jeffries is considered the modern-day-founder of A&F, who transformed the brand from a failing sporting goods chain into a multi-billion-dollar retailer aimed at teenagers.
During his two decades in charge from the 1990s, he led the company's global expansion and created offshoot brands including Hollister and Gilly Hicks.
Mr Jeffries stepped down in 2014 following declining sales and left with a retirement package valued at around $25m (£20.5m), according to company filings at the time.
As part of that package, A&F said he was entitled to monthly payments for life totalling about $1m a year, the filings add.
This voluntary company retirement benefit – known as a supplemental executive retirement plan – is in addition to his standard pension. Records show Mr Jeffries has been receiving payments as recently as this year.
A&F said the supplemental retirement plan payments to Mr Jeffries have been suspended but it could not comment further because of pending litigation.
In a statement after the BBC's initial investigation, the company said it had hired an "outside law firm" to independently investigate the claims raised.
It added that the brand's current executive leadership team and board of directors were "not aware of the allegations of sexual misconduct" by Mr Jeffries and that it has "zero tolerance for abuse, harassment or discrimination of any kind".
Do you have information about this story that you want to share? Get in touch with Rianna and the podcast team by any of the methods below.
WhatsApp: +44 7756 165 803
Email: rianna@bbc.com
SecureDrop, a highly anonymous and secure way of contacting the BBC which uses the TOR network: http://kt2bqe753wj6dgarak2ryj4d6a5tccrivbvod5ab3uxhug5fi624vsqd.onion/
The Signal messaging app, an end-to-end encrypted message service designed to protect your data: +44 7756 165 803